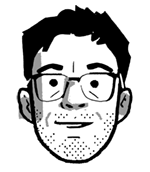 josh@holinaty.com
instagram
|
twitter
|
github
Hello, welcome to my internet website. I am an illustrator and, more recently, a computer science research graduate student currently living in Toronto, ON, where the local time is 4:15 am.
Illustration
Some past clients include:
New York Times, WIRED, Barron's, Slack, the Walrus, Reader's Digest Canada, The Hollywood Reporter, UD&SE, Broadview, Euroman DK, INC magazine, Runner's World, Transworld Snowboarding, Quill and Quire, Owl, Chickadee, the Globe and Mail, l'actualité, Swerve, Landyachtz Longboards, Sled Island Music Festival, Y&R Beijing, DDB, ATB Financial, RED the Agency, Lukes Drug Mart, Farrow Sandwiches, and more.
Computer Science
I'm currently pursuing a Masters in Computer Science at the University of Toronto as part of the Dynamic Graphics Project lab, where my research interests explore the areas around HCI/vis/graphics and creative authoring tools. I feel lucky to be co-supervised by the wonderful Fanny Chevalier and Alec Jacobson.
Children's Books
Education
(currently pursuing) MSc Computer Science, University of Toronto (ETA 2021)
Certificate in Computer Programming Applications, Ryerson University, 2018
BFA, Alberta University of the Arts, 2007

remote study, New York Studio Residency Program, Fall 2006
Fine Arts Program, Grande Prairie Regional College, 2004
© Copyright 2007-2021